Alpha Weekend – Play For Free
January 27th, 2022 at 9:27 am
Enjoy 2 days of free gameplay and earn your exclusive in-game title "Shaper of Syndesia"!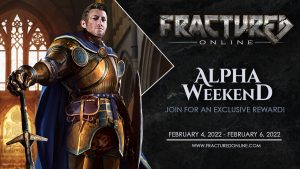 Hello, fellow Adventurers! Lend a hand and help shape Syndesia!
On Feb 4, 2022 we'll be holding an Alpha Weekend to push our backend engine, which recently received a major update, to its limits.
Play tests are very important to get your valuable feedback and deploy any necessary fixes in preparation for the launch of the following backers-only testing phase.
So, what do you need to know about this test?
How long will it last for?
The test will run from Friday, Feb 4, 2022, 4 pm CET / 3pm UTC until Sunday, Feb 6, 2022, 10 pm CET / 9 pm UTC.
Get your reward – Exclusive in-game title
Everyone who logs in and plays for at least two hours during the Alpha Weekend will earn an exclusive in-game title "Shaper of Syndesia" as a thank you for taking part in the test!
What do I need to access this test?
If you supported us on Kickstarter, purchased a Founder Pack or registered on our website before Friday, Jan 28, 23:59 CET / 22:59 pm UTC, then you are among the lucky ones who can take part in this test!
Want a friend to join?
Tell them to register for free until Jan 28, 23:59 CET / 22:59 UTC. In case they missed it, they can still join by purchasing any of the available Founder Packs in our official store.
What needs testing?
The Fractured Online backend engine (SpatialOS) received a major update which should improve performance in very crowded areas and increase the number of players that can be online in the same continent. We want as many players to group up and play together in close spaces and report any outstanding performance issues.
What is new in Fractured Online?
Other than the backend update, here's a short overview of the new changes and features for this test phase:
Two new hotkeys.

Auto-run: your characters moves without having to hold own the left mouse button.
Toggle combat mode: prevents interaction with harvestable items in the world.

New "General" settings page.

Contains a few new QOL settings, with more to come.

Latency compensation.

The cast/damage point for abilities/attacks is now dynamically adjusted to account for latency. Better kiting!

Combat improvements.

Attack animations are now faster, but there can be a cooldown before the next attack. It is no longer possible to gain attack speed with slow weapons exploting animation canceling.
Mind this is just a drop in the ocean compared to what's coming in the following test. We can't wait to reveal the rest!
Where can I report issues, bugs and exploits?
Any issues related to the testing focus above and bugs can be posted as comments on the Forums or through Discord.
Exploits should always remain in private discussions, we ask you to get in touch with the Community Managers on Discord or Forums through direct messages. (Note: Any exploit report posted publicly will be removed without warning).
Can I play casually, stream and/or record?
Yes. In fact, we invite you to keep playing, discovering and test new things and share it with your friends!
We wish you happy testing!
Your Fractured Online Team
---
Join Our Fractured Online Discord Server!
Follow Us On Social Media Not To Miss Any News!