Tales from Elysium contest!
March 17th, 2022 at 1:23 pm
Get us all immersed in the world of your creation with Fractured Online's very first Tales of Elysium, the story writing contest!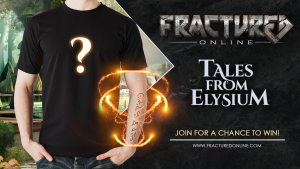 Adventurers of Elysium!
Fractured Online is all about your story and what better opportunity to flex your writing skills by telling us about your adventures in the Tales from Elysium story writing contest!
That's right, we want to hear your story and be immersed into your world!
What do I need to do to participate?
You have from Mar 17, 2022 till Apr 18, 2022 23.59 CET, to create your very own Fractured Online story, the theme and the contents are up to you!
Post your story in this forum post to be eligible for a reward.
Winners will be announced on Apr 25, 2022 on all of our platforms.
Rules
Your story must be related to Fractured Online.
All entries must be appropriate for all ages.
Entries that severely violate this rule will be disqualified.
There are no word limitations on your story, write to your heart's content!
Reward
The top entry will get a Fractured Online T-Shirt.
Click here for the contest's Detailed Information.
Click here for the contest's Terms of Participation.
What are you waiting for, get writing!
__
DISCUSS
---
Join Our Fractured Online Discord Server!
Follow Us On Social Media Not To Miss Any News!